Immunize.org urges hospitals and birthing centers to meet the national standard of care by providing a universal birth dose of the hepatitis B vaccine. A universal birth dose:
Prevents mother-to-infant transmission in 70-90% of cases
Prevents household transmission between family members and other caregivers
Provides a safety net to prevent perinatal transmission when medical errors occur
News & Announcement
AAP Policy Statement: Providing Care for Infants Born at Home
AAP publishes a policy statement for the care of infants born at home (with the caveat that AAP believes that current data show that hospitals and accredited birth centers are the safest settings for birth in the United States). This guidance includes a recommendation for the birth dose of the hepatitis B vaccine for all eligible babies and PEP for babies born to HBsAg-positive and unknown-status mothers.
Pediatrics (April 20, 2020)
CDC and Major Professional Associations Responsible for Infant Health Recommend HepB Birth Dose within 24 Hours of Birth for Low-Risk, Normal-Weight Newborns
Previously the hepatitis B vaccine was recommended "before hospital discharge" for infants. The current recommendation, approved by CDC, AAP, AAFP, ACOG, American College of Nurse-Midwives, AAPA, and NAPNAP, is now "within 24 hours of birth" for low-risk, normal-weight newborns. (See the hepatitis B vaccination note, page 6.)
Download the Birth Dose Guide (July 2016)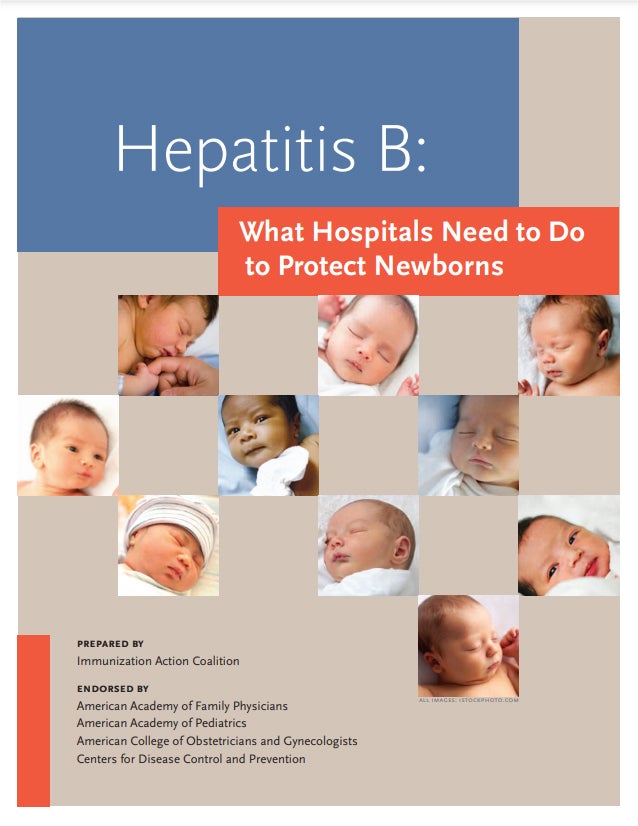 Hepatitis B: What Hospitals Need to Do to Protect Newborns
A Comprehensive Guide for Implementing the Hepatitis B Birth Dose
Our comprehensive guidebook, last updated July 2016, is a complete resource to help hospitals and birthing centers establish, implement, and optimize their birth dose policies. The book was written when ACIP recommended that the birth dose of hepatitis B vaccine be administered before discharge from the hospital or birthing center. In 2017, ACIP voted to specify that the birth dose of hepatitis B should be administered within 24 hours of life. Despite this difference, the book continues to contain valuable policy and best practices guidance for newborn hepatitis B immunization.
When the Immunization Action Coalition (IAC, now Immunize.org) launched its Give Birth to the End of Hepatitis B campaign in 2013, former Assistant Secretary for Health Dr. Howard K. Koh wrote in a statement from the U.S. Department of Health and Human Services, "This new initiative can make important contributions to our efforts to eliminate perinatal transmission of hepatitis B."
Read the endorsement
Download the entire guide (6 MB)
Hepatitis B Birth Dose Honor Roll
Applying for the Birth Dose Honor Roll
One-page flyer on the qualifications and how to apply for the Hepatitis B Birth Dose Honor Roll.
Learn more about the Honor Roll